Customize Your Pasta Straws
Looking for a large volume of pasta straws? No problem, our straws can be produced in bulk and customized based on your business' needs. From color to diameter and length we can make it happen! Check out how we can integrate your brand identity as well. The pastabilites are endless.
Diameter & Length
Looking for an extra long straw with a larger opening for milkshakes, slushy drinks, communal cocktails or boba teas? We got you with custom lengths up to 18.5" and diameters from 6mm to 12mm wide.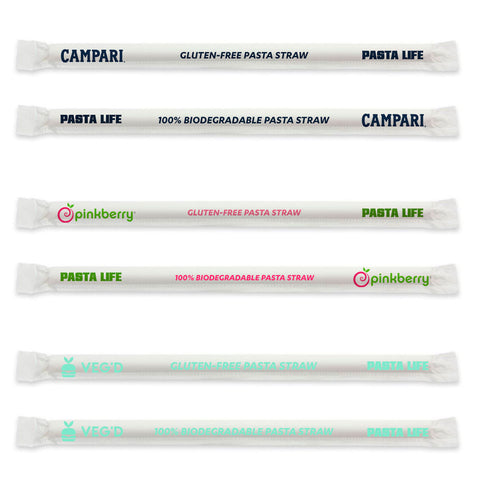 Branded Wrapper
Put your logo, tagline and colors on our individually wrapped pasta straws to rep your brand.
Laser Engraving
Make your pasta straws stand out by laser engraving your logo or tagline directly on the straws. Your brand will be front and center with every sip.
Color
Looking for a specific straw color to match your brand? We got you - our straws come in a variety of different colors.
Custom Order Request
Before You Submit
To request a quote for a custom order, please include the name of your business, job title and the straw quantity you are interested in.