No bullsh*t just pasta. The premium gluten-free pasta straw that will have you saying fahgettaboudit to paper and bio plastic straws.
The best straws on Earth
Make pasta not pollution
Everyday millions of single-use plastic straws are thrown in the trash with 8.3 billion plastic straws polluting the world's coastlines, and you're telling me soggy paper straws and plant-based bio plastics are the solution? Say no more - we make pasta not more pollution and have created a sustainable straw that enhances the drinking experience.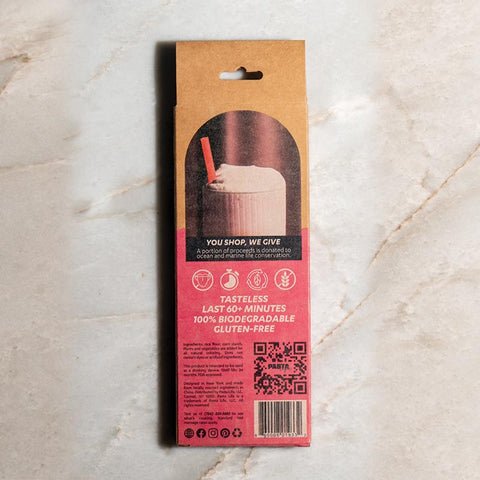 30ct Pack 7.5" Pasta Straws
GREAT STOCKING STUFFER FOR UNDER $10
$4.49
$8.99
you save $4.50
More Pasta more Life
Straws used for minutes shouldn't last a lifetime, but you shouldn't have to suffer with soggy paper straws either. We've created a sustainable plastic-free straw made from gluten-free pasta that composts in your backyard in less than 90 days without sacrificing quality. Pasta brings people together and our straws will elevate your drinks without causing harm to the environment guaranteed - all you have to do is make the switch today.
Good for your drinks
Good for the planet
Absolutely no taste - the straws will not change the flavor of your drink whatsoever.

It may be pasta but it's tested as gluten-free made from rice flour and corn starch which are both naturally gluten-free. We are the only gluten-free pasta straw in the United States.
Harder than plastic but it's still pasta - never soft and always al dente lasting over an hour in your drink.
Marine biodegradable and home compostable straws that break down in your backyard in less than 90 days.

People are pasta straw obsessed - our straws are perfectly straight, have clean cut mouthpieces that will not collapse, and come in a variety of eye catching colors.
A portion of every purchase goes towards our beach cleanups and the rest is donated to ocean conservation.
10" Boba / Milkshake Pasta Straws - Unwrapped, Pointed Tip
$56.00
$80.00
you save $24.00
The truth about bio plastics
Plant-based plastic straws, like PLA, PHA and agave, are marketed as sustainable to the hospitality industry. However, they are not accepted at most recycling facilities and do not compost without oxygen and sunshine, which are not found in landfills or oceans. Bio plastic straws are thrown in the trash and will take 100+ years to decompose. Bio plastic straws that end up in the ocean act like regular plastics and break down into microplastics that can be consumed by marine life and you. Don't be fooled by greenwashing.
Upgrade your straw game with Pasta Life
Pasta straws are taking over the restaurant industry, and for good reason. Not only are they more durable and consistent in size than traditional paper or grass-and-bamboo options, but they also spark conversation among guests. Imagine the look on your friends' faces when you tell them the straw in their drink is made of pasta! These straws are making a splash at restaurants worldwide for their simple design, vibrant colors and sustainable properties. Who knew going green could be so tasty? Mangia!
Pasta Life Co-Founders take on plastic pollution
Pasta brings people together, and now it can also bring about positive change to the environment through our simple innovation, the gluten-free pasta straw. Pasta Life is partnering with global organizations like Oceanic Global and Clean Ocean Action to conserve ocean and marine life and host beach cleanups. A portion of every purchase goes towards this important cause, so not only can you elevate your straws, but you can also feel good about making a difference.
What our fans say
The proof is in the pasta
Great alternative to our previous paper straws which became soggy halfway through the drink. Being an Italian restaurant, our guests love the fact the straws are made out of pasta. It's all in the details!
I decided to bring Pasta Life into the cafe because Hawaii is very eco-conscious. Now every employee and customer is just as obsessed as I am. They are sturdier than ALL the other compostable straws. They don't get soggy in less than 10 min of being submerged in liquid and don't break if you touch them. The colors are so pretty. The packaging they come in are also all compostable which is another huge plus. And I just cannot say enough about Pasta Life's customer service. They are so kind and accommodating.
This is such a great idea. The straws hold up much better than paper straws, PLUS it's a conversation starter. We are having a great time using these! Well packaged, and prompt delivery after I ordered them.
Amazing product! Our guests love 'em! Never will we order another plastic or paper straw.
What a great idea. I've tried metal reusable straws and flimsy paper straws and nothing has been functional, practical, and actually effective. These straws actually work and last more than the hour they're supposed to hold up. Totally worth it and looking forward to stocking my cabinet with these.
I have used these in various beverages over the last few weeks trying to see if they hold up under different circumstances. I am pleased to report that they not only held up but they exceeded my expectations. There is no taste, no bleed of color, and they lasted a good 60 minutes or more with all beverages. With straws getting harder to come by especially on the West Coast this is a potentially great option. I will be using these again. to showcase your store's happy customers.
Love these! I cannot wait to use them in my restaurant, and I know the guests are going to fall in love. I have always hated paper straws, and these are the absolute perfect substitute.
Buy in bulk, customize your straw
Looking for a large volume of pasta straws? No problem, our straws can be produced in bulk and customized based on your business' needs. From color to diameter and length we can make it happen! Check out how we can integrate your brand identity as well.
We are changing the world
And making waves in
12MM+ plastic straws eliminated and we're not stopping
We are here to distrupt the single-use plastic industry with a no bullsh*t approach and action-driven mission to eliminate ocean plastic pollution. Be apart of our story - alone we are strong but together we are unstoppable.